Introduction
Admit it. At least once in your life, you've fantasized about that one auntie in your family who seems to be exuding with sexiness, despite being past her prime age. You're probably even crushing on her, fantasizing about her while you masturbate. Your cock throbs at the sight of her juicy legs, trying to catch a glimpse beneath that thick skirt. I bet you liked her smell, too. That faint smell of lavender as she passes by drives you wild! Well guess what? There's one such auntie who isn't what you think she is. Because, underneath that innocent and sweet smile lies a horny animal who probably has more lust in her than you do! I'm talking about this one special lady at premium adult site, AuntieTrisha! She wants you to check out her site which is filled with steamy, high-quality videos and photos of her in all manners of dress and undress. Sometimes she wants to go solo, but in other occasions she prefers to heat things up with some of her mature chums. This old chick is all set to take on wild sexual adventures, even those you couldn't have possibly imagined! Trisha and her friends believe they can tempt you with the site's nasty collection of flicks and pics highlighting their sexual shenanigans. You know Trisha is always busy as she continues to add more steamy content every week. Sex is serious business for this lass, and she's more than happy to share it with you guys! Once you become a member, she'll even treat you to a couple more bonus sites, TrishasFriends and HotAmateurTrisha, both of which feature more of Trisha's wild antics. That's more than enough to keep your cock happy!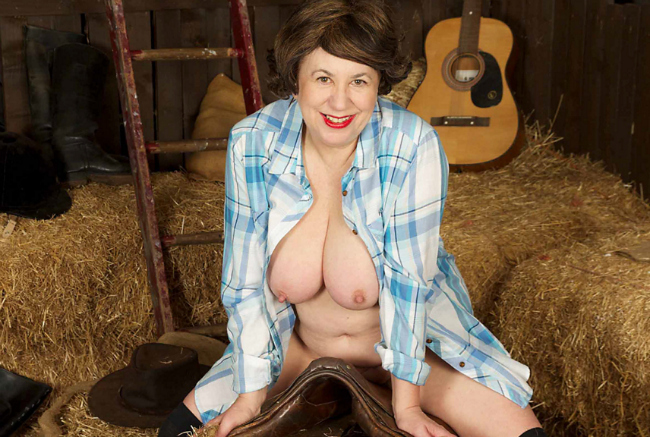 Site specs
Everything about this site has that amateur vibe to it, which perfectly fits the main theme of its content. It's clutter-free and everything is properly labeled and marked for easy navigation. The color scheme is a mix of dark and light pinks, leaving off a feel-good sensation that somehow also reflects Trisha's bubbly personality. At the top of the page, you'll find a menu tab that lets you access other parts of the website with a single click, including Members Area, Photo Reviews, About Me, Updates, and Tours. Scroll below and you'll find a personal greeting from Trisha herself, as well as a number of steamy wallpapers featuring our hot auntie wearing sexy outfits and exposing her tits and pussy. From the homepage, you'll also find some of the latest updates with date stamps that tell you when they were added to the site. Each scene comes with a member rating, as well as nicely-sized descriptions and large image shots that seem to have been taken from the movies. There's plenty of heated passion here that makes AuntieTrisha feel more personal and welcoming. Perhaps my only issue with this site is that, from the content section, you only have the option to move the pages forward or back, which might be too much of a hassle since there are a few pages to go through. There's also a section where you're supposed to place and save your favorite scenes but at the time of writing, there's no way for you to add something in it. On the upside, you can rate and filter content. As mentioned earlier, AuntieTrisha updates on a regular basis so expect to see two or more fresh content coming your way every week. You can also check out the bonus sites while passing the time between updates.
The movies and the girls
There's a lot of adorable and arousing content for you to peruse and enjoy here at AuntieTrisha. There are scenes featuring Trisha dressed up nicely in sexy costumes or lingerie, with the French maid costume being my personal fave! Large tits spill free from her tight basque, showing what age and gravity has done through the years. But don't get me wrong, Trisha's tits are full and just as sexy as they once were, despite looking a tad bit saggy. AuntieTrisha keeps its promise of offering nothing but hot and horny mature ladies getting down and dirty. Sometimes, you'll see Trisha spreading on all fours on top of the kitchen counter, stripping off her lingerie and gradually pouring thick goo all over her tits and pussy. In other scenes, you'll see her getting rowdy with a bunch of other mature women. This is where you'll be amazed at their flexibility despite being in their late 50s. Trisha and her chums are so good at hiking their thick legs high into the air, stretching them in all directions while a hungry mouth licks her fleshy cunt. There's an overwhelming kinky side to these slutty aunts, and they're here to give you the ultimate MILF porn satisfaction! The quality of the videos and photos is excellent, with careful attention to the juiciest details. Sound quality is just as impressive. There's little to no dialog at all, though there's plenty of moaning and screaming as the girls take turns fingering and licking each other's pussies. The length of the flicks may vary, but I didn't find any that ran as long as 1 hour. The average running time is about 15 minutes, give or take. At AuntieTrisha, you can opt to stream the videos in the embedded Flash player, or download and save it for offline viewing in MP4 format. As for the photo galleries, they don't get updated as often as the video content but they're certainly worth viewing, as well. The photos go to a glorious full-screen size up to 1200x1800px. You can view them in hands-free slideshows but unfortunately, there's no option for ZIP downloads.
In few words
There's no denying the erotic excitement that comes with AuntieTrisha. Maybe it's the way she smiles at you seductively as she runs her fingers down her tits and the opening of her pussy. Maybe it's the way her tongue flicks as she gets a taste of her girlfriend's juicy cunt. Perhaps it's the sight of her aging body shuddering as an orgasm sweeps through… Maybe it's everything! The site is filled with raunchy scenes with Trisha enjoying herself in solo scenes, lesbian affairs, threesomes, and plenty more hardcore banging where pussies squirt and playful tongues wrap around thick shafts, careful to catch every ounce of that thick, white jizz. Trisha and her pals really made a very exciting website for MILF porn lovers, with lots of variety that any person could enjoy and jerk off to. You don't even have to love mature women to be able to appreciate all the action that's going on in this site. Overall, AuntieTrisha is a stellar website that provides porn fans more than enough MILF goodness to enjoy for the rest of their life!
This site has been closed, you can find similar content on this best mature porn sites collection.