Introduction
Isn't it just any guy's fantasy to get that raunchy airhead of a chick to just get down to some dirty business with the big boss? Imagine walking down the street, minding your own boring business, and you spot this blonde girl who's obviously a complete bubblehead, just standing by a store window looking like she's ready to take your dick. Of course you think you're imagining things. But nope, she really is ready to take your pole and do to you all the most unimaginable pleasures. And guess what? You can dupe her into riding you in exchange for a minute of fame on camera like the birdbrain that she is. Everybody knows dumb chicks are great performers. What they lack in the head, they make up for in bed: Easy sex, pro fucking.
AmateurDumbFucks capitalizes on the gullibility of dewy-eyed chicks and all the bad, the dirty and the hardcore in the most horrendous scenes the internet has ever seen. Launched on May of 2001 as part of the My All Access Pass network under the Lotsa Dollars Company, the site is boasting a collection of amateur chicks in exclusive full-length videos and a rich gallery of nothing less than the naughtiest and the roughest of bad porns. Although the site has recently been rotating their collections, it's still one of the most impressive collections of amateur hardcore porn there is.
As part of a bigger network, access to the site gives you a wider field to explore with 28 partner sites included in the membership. The My All Access Pass network gives you admission to its collection of hardcore porn sites such as My Sex Life, Taco Pie, Wack My Meat and Cum Lovers. The site stands loud and proud of the amateur airheaded ladies who may not be big names in the industry, but can bust their moves like the pros.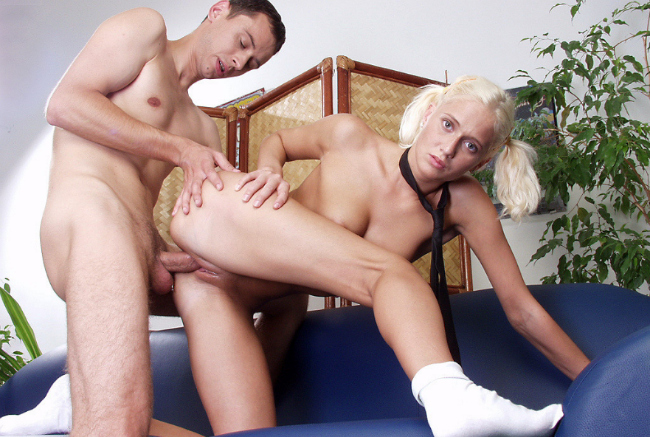 Site specs
The site's features live up to the name they carry by using a flood of the meanest and most erotic and steamy descriptions of all the most beautiful fuck-uppery they could offer. With a cool lime green and black theme and an explosion of libido-inducing photos, the site calls for its viewers' utmost attention and is sure enough to keep them hooked. Viewers should prepare themselves for an overload of the "f—" word and the most male dominating phrases that would pump them all up for the real thing.
With membership to the My All Access Pass, the users can download unlimited videos at at least 1.7MB download speed in WMV, FLV or MP4 formats. The users may also choose to stream the videos in an embedded medium Flash Player on the site with very smooth playback, less buffer times, and easy jumping ahead. The site also prides itself with a huge gallery of photos including a mix of screencaps and naughty photos which are downloadable in zip files.
The movies and the girls
As a porn site for amateur videos, most of its content is not original, although they have last been focusing on an Uncle Jesse movie series with amateur blowjob and bang-the-bang action between an old slob, Uncle Jes, with fresh amateur ladies. They feature a wide array of girls ready to bend-over for a taste of on-cam fame. The whole purpose of the site is to maintain an impressive collection of videos of dumb chicks in the most hardcore positions, choking on stiff pythons, taking them three at a time, making all the wrong but sexy decisions and bathing in their sexual partners' cum.
The network has a total of 150 models that are mostly white, with some ethnic, amateur types in desirable body frames. The site features kinks for midgets, skanky sluts, hairy pussies, the grossest scenes and disgusting men on these hot girls-next-door. They have a collection of at least 184 videos at an average of 20 minutes per video which the viewers may stream or download. They also have a gallery of at least 600 photos at semi-pro level photography or screen caps of their videos.
In one video entitled "Old Bag-o-Bones Lays Some Dumb Bitch," Uncle Peppi gets to bone a very hot chick despite his below-average appearance and with old pole that he handles to get hard. Well, any old fart would get a hard-on faced with a hot girl with the perfect tits and sweet little pussy especially when the sex is in public and the hot chick is giving you the best blow service. All he did was to offer her a chance at fame as a porn star and poof, down to business.
Another featured video features a steamy blonde as she gets educated by a no-name dude on what "tossing salads" mean in the porno world. Aiming to get a chance at a porno career, the chick pleasures her partner by licking his ass and gagging on his tommy. Definitely a tossed salad with nut cream on the side.
In few words
While all the mainstream pornographic sites thrive on the perfection of their models and their flawlessness, AmateurDumbFucks dwells on the imperfection, the dumbness and the gullibility of the women and the amateur quality of their hardcore performances. One of the best features of the site is that it is part of a bigger network, which gives the user a wider variety of choices based on his new kinks and his own chance to explore on the otherworldy eroticism of other kinks he may yet to encounter.
Plus, a chance to be rough and dominant over their women partners while they do all the kinkiest, dirtiest and steamiest sexual favors is surely every man's dream sexual encounter. So for that one horny evening alone or with a partner, when all parties are in for a little rough sex play, AmateurDumbFucks may be one of the best porn sites to visit.

Check out the other best pay porn sites OR read more on Amateur Dumb Fucks from other popular review sites.