Introduction
Great pornstar porn site, Abbie Maley gives you one of the hottest and sexiest models on Instagram! She is a brunette sweetheart who can easily arouse the fantasies of men and lesbians alike! Even some women cannot help but appreciate her irresistible sex appeal and entertaining wit. After rocking IG for years, Abbie was introduced to James Deen, an American porn actor turned film director, who convinced her that there is a promising career waiting for her in the adult entertainment business. Since she joined the biz back in 2018, millions of fans worldwide are having sleepless nights! That's how powerful her beauty is!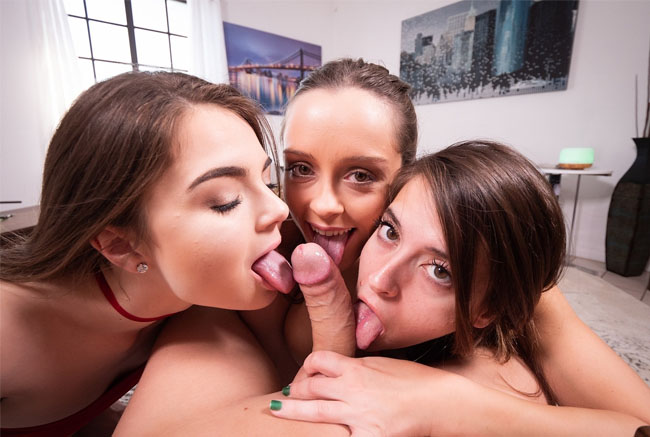 Site specs
Do you have a favorite porn actress? If so, get ready to have a change of heart because Abbie Maley will surely become your new xxx fantasy. This sensational model is rocking the hardcore industry and it seems that there is more to see!
This solo porn site is operating under the famous Full Porn Network. Thus, her xxx channel is hosted under the official website of this successful porn production studio. If you have checked one or two of its sites in the past, then you know that the FPN uses a uniform setup for its collections. Abbie Maley's official homepage gives you pretty much everything you need to see, with her exclusive videos arranged from the most recent to the oldest. You can follow the site's default arrangement or browse using the videos' titles, the most popular ones, or based on upload date.
Since the videos are all available in 4K, you will surely enjoy streaming them online or downloading them to your device. Your options for formats and sizes are neatly listed below each scene, so you can easily pick what suits your device the best. As a member, you can provide feedback or rate Abbie's performances. There is always a list of related scenes so it's easy to binge-watch this collection.
The movies and the girls
Abbie Maley has already uploaded more than 60 full-length hardcore scenes in 4K. At their best, you can stream or download them at 3840×2160 (20300kbps). Usually, you'll see the hot brunette exploring different xxx genres with male and female models alike. Each scene comes with high-resolution photos (1920×1080), which provide you with a more comprehensive and exciting visual insight. Even the video descriptions are creative and highly captivating. But arguably, what will keep you addicted to this porn collection is Abbie's ability to keep the balance between softcore and hardcore porn. There are intimate girl-on-girl actions and intense pussy drilling, throat fucking, and anal rimming. Furthermore, Abbie loves to surprise her viewers with out-of-this-world storylines and performances.
In few words
Whether you know Abbie or not before knowing about her self-titled porn site, you'll surely understand within seconds why she is such a sensation both on Instagram and in the adult entertainment industry. Though she has only a few years working as an xxx star, her fame and fan base are mind-boggling. Whether it's erotic or hot hardcore, this model is your ultimate girl.