Introduction
Getting laid for more than 40 years in a consistent and vigorous manner, or doing any other thing for such a long stretch of time, sure would qualify one as a professional in that field. Such is the prowess of the stunning old ladies of 60PlusMILFs. They are so talented, creative, and full of amazing experiences that can never be rivaled by people in their 20s, 30s, or 40s. They are spectacular, agile, strong, daring, and very tenacious in the art of making men feel good, enjoying a great time fucking, and relishing in the bliss of hardcore sex. These are such beautiful hotties paraded in the awesome videos found on 60PlusMILFs. The sheer number of badass grannies, divorcees, office executives, and other such old women getting their wet cunts stretched out and their assholes hard fucked is staggering and unbelievable.
Seeing these fine women in their skirts and blouses makes them look stylish and responsible, but get them into that hot panties or leggings, and you would see a totally different person entirely. Go one step further and get her in her birthday suit, revealing all that voluptuous boobs, hot butts, and amazing cunt area, and you would be seeing the finest ladies on the planet right in your front. The volume of experience and knowledge they have gathered over the years, fucking mighty cocks of all sizes, shapes, and colors have made them the true porn queens of this internet age. The sizzling hot and thrilling fuck shows these ladies put forward far outclass anything fresh starlets can attempt. These stunning oldies of 60PlusMILFs are big, possess mighty boobs, fat asses, and bodies to die for.
With nothing to bother them, no stress from any offspring, no husband to restrict them, and no house chores to hold them back, these amazing women are let loose to perform great and incredible fuck shows that surpass anything out there. Once you settle down to watch them hold on to that cock, stroke that dick, suck a huge penis, and ride these guys like a jockey would ride a stallion, you would not be able to take your eyes off the shows from beginning to end. Such are the spectacular thrills that are packed in these breathtaking videos that come in shimmering HD formats. The fact that these ladies' skin still glow and shine in the light confirms the many hours spent on grooming and taking care of themselves just to appear stunning in the videos.
This same effort and time have been put into honing their sex skills, learning new tricks, remaining fit and agile, and as well making videos that are beyond anything this world has ever seen. In a world where we keep seeing drab tube videos, where we keep seeing poorly edited and very boring fresh starlets attempting what they are not trained to do, the ladies of 60PlusMILFs remain the ultimate fuck champions we can always rely on to satisfy those nonstop kinky sexual desires of ours. Recorded on the most fantastic and fascinating cameras with amazing lenses that make these ladies glow like the goddesses that they are, you cannot but wow at the incredible clarity and vividness of the videos on display.
Nothing comes close to the technical superiority of the crew and cast that have made these videos sought after by all and sundry the world over. For these ladies, all they require at such an advanced age is to get pleasure and bliss from men that would submit to their antics and lick their entire bodies, nonstop. Men that would crouch on their knees and titillate their clitoris while they lie on the bed, huge hunks that can carry their big frames and turn them in the most ruthless manners, studs that are so powerful and energetic that they can fuck them in the pussy and asshole for hours unending.
True, finding these kinds of men may be somewhat difficult, hence their complete reliance on 60PlusMILFs to help them connect with the hugest of black cocks, Latino dicks, white uncut penises, and the most fascinating gigolos in town. With such available to them all day long, it's nonstop banging with vigor and passion all through that follows. 60PlusMILFs parades these amazing women in their hundreds, guaranteeing users the fact that they would never be bored with repeated scenes or boring ladies. The regular updates on the site ensure that more and more stunning videos are added to the archives for viewers to stream online and download without restriction.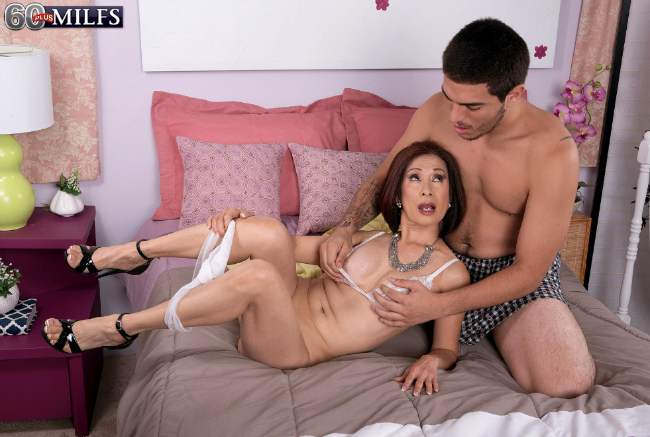 Site specs
Subscription to 60PlusMILFs has been made quite simple and easy so as to accommodate everyone that so wishes to be a part of this wonderful site. All that are requested are a valid email address, a secret password, and a cool username; no long and boring form to fill out. The site is fully subsidized to ensure that everyone can access the goodies and bonuses offered. Users can also choose to pay weekly, monthly, or yearly. That means more flexibility than others can think about. Also, there are a thousand and one stunning videos waiting to be explored; yet, even more, are being recorded and added to the site on a daily basis. This update expands the library more and gives users infinite choices on what to click and enjoy, whether on a tablet, a laptop, or a smartphone.
The movies and the girls
When you see such stunning grannies, hot moms, amazing MILFs, and the best of mature porn stars all gathered in one single website with a mandate to stun the world, then you should appreciate the amazing work put into finding them and making them the porn stars they are today. 60PlusMILFs proves that experience truly counts.
In few words
Don't just read this review only and keep salivating; get on board and subscribe to the wonders of 60PlusMILFs. Nothing comes close to the dazzling shows, all offered for the lowest of prices.

Check out the other top pay porn sites OR read more on 60 Plus MILFs from other popular review sites.